No, it is not the Cutty Sark that has been on the move.
Those interested in the old clipper trade think immediately of the slim, record-breaking vessel, its yards creaking and the sheets straining as the billowing sails propel it on, on and on, slicing its way through mountainous seas first to China for the tea trade and then in later years to Australia to take on the huge bales of wool being exported to Britain.
The Cutty Sark was launched on the River Clyde, in Scotland, in 1869 and is often spoken of as the oldest surviving ship of its kind.
But not so.
It was my Aussie friend John (those of you who read my
thread
about our adventure and camping in the outback in 2007 will remember him) who, some time ago when I was enthusing about the Cutty Sark's restoration subsequent to the terrible fire, pointed out that it was not the oldest remaining clipper. A still older one exists, the City of Adelaide, built at Sunderland by William Pile, Hay and Co. and launched 7 May, 1864. This long-neglected hulk has just completed a wonderful final journey piggy-back on the HLC Palanpur to Adelaide in South Australia, the city to which in the 19
th
century it made many trips carrying immigrants from Europe, those pioneers to whom many memorials have been erected over much of Australia and who figure large in the history of the island continent. An Australian Broadcasting Co. report said that estimates give a figure of about 250,000 people at present in Australia who are descendants of those who came over in the City of Adelaide. Here she is: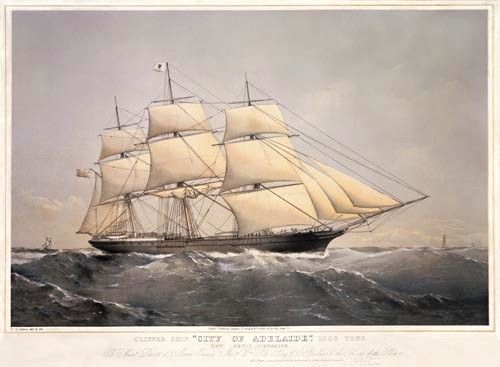 The above copy of a lithograph by Thomas Dutton of the City of Adelaide was made by Cruickshanks.
More follows.