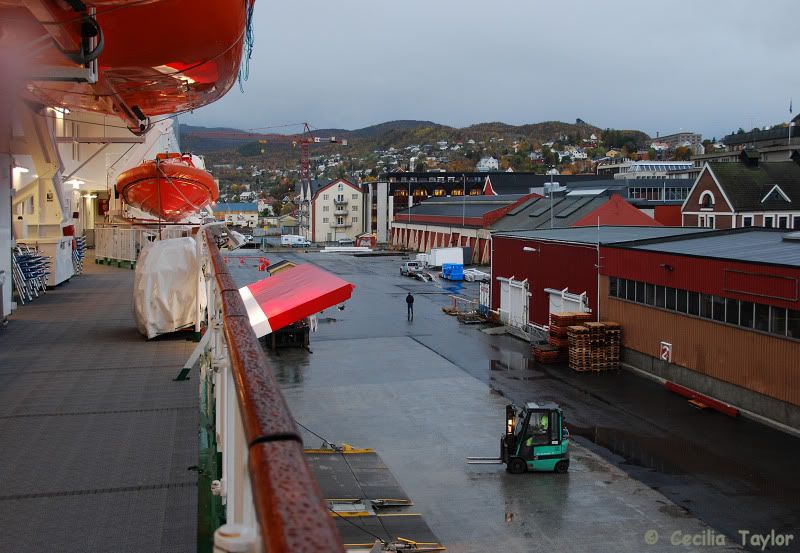 Next morning dawned damp and dark beneath low cloud, although it was not actually raining. Nevertheless I felt more inclined to watch activities from the deck, rather than going ashore, now that the restrictions around the promenade had been lifted. That would in any case be the ideal place to look out for the southbound ship Lofoten. I had even recommended this pursuit to a number of people, stressing the opportunity to see a
traditional
ship, and keeping them from their breakfast. So time passed and as Finnmarken's cargo loading doors slammed shut, emphasising the imminence of our departure, I began to think the chance of seeing Lofoten had dwindled, along with my reputation.
Then suddenly there she was in the distance, hastening towards us, and as if performing a graceful waltz turned to dock as we acknowledged her and swung away.
The autumn colours were compensating for the cloud, and I stood staring at the view until well after Trondenes church had finally disappeared from sight before succumbing to the lure of the cafe and coffee.
Returning outside half an hour later the sun was just managing to make its mark as faint reflections in the water, though curiously I remember feeling the mood was more like a sunset than a sunrise. But sunrise it surely was, for, as the clouds swept across the sky and the ship scurried along in the opposite direction, it seemed that we emerged to a clear blue sky in an instant.