last saterday there was a truckshow not far away,there i bought those.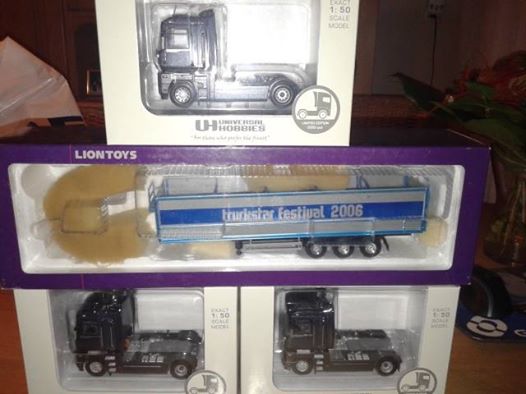 3 renault magnum trucks and a patato trailer as we call them ,but they discharged the patatoo's by a convaier??? band or moving band from the back.
this trailer is for a friend who needs it for a client of his,the trucks are for me,
1 stay in the show case and the others for rebuilding them.the model i make of a menure truck ,the company owner ask me to build them for him to,about 10 models.
had surch for them and could buy 10 trucks and trailers,called him this afternoon ,he was just intrested in the price,which i don't gave in advantage.
but told him ''not under the 100,00euro's a piece.''
oh ,not intrested anymore.
thats nice spending many hours to found them,and he want them for less that what i have to spend for those models.