the dashboard,for who is intressed the complete lay out
http://www4.mercedes-benz.com/manual...&part=in-depth
at the image,al the ''stars'' are indicator lamps,but many not in use for my truck.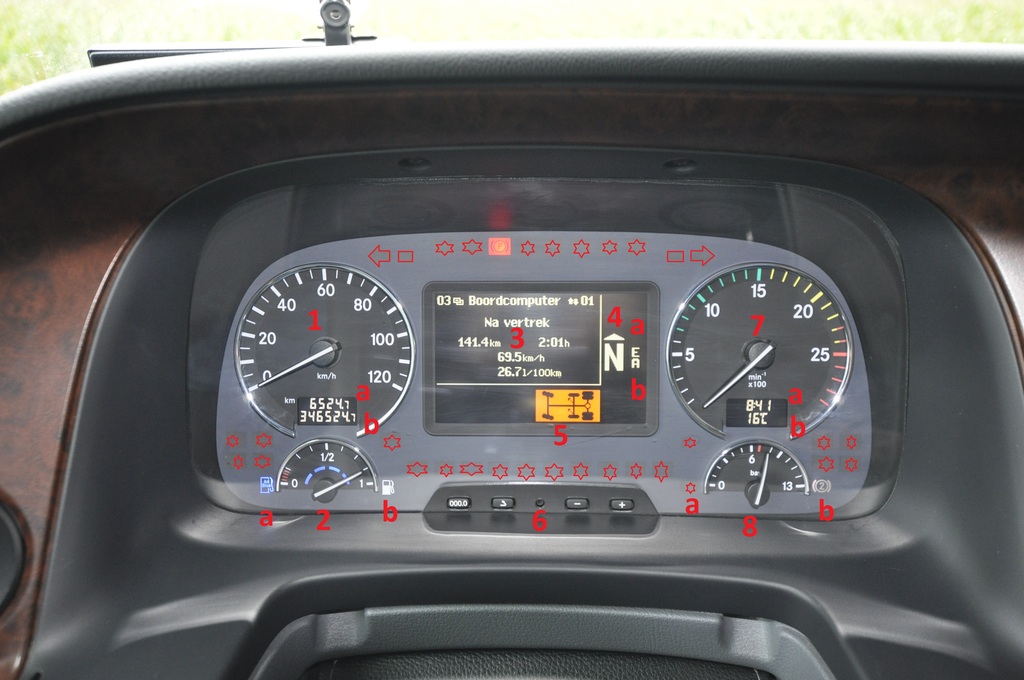 1 = the speed meter in km.
a = the day kmcounter
b = the total km counter
2 = the tank meter(s)
a = the bleu tank and blocks symbolls are for the ad bleu tank,the needle here is not for the ad bleu,by less and less ad level every time 1 bleu block lamp go out,just an indicator tank in 100 liters
i can see how much in the tank is by scrolling through the computer where the amount of liters at that moment is
b = white is for diesel including the needle and tank symbol.so in this case both tnaks are almost full,diesel i have 570 liters with me.
3 = the computer screen,there are 10 pages to scroll through with switches on the steering wheel
4 = in this case only the gearbox info
n= neutral ,but changes to the gear what is shifted e = economic run goes out when i switch the power mode (never useed it) a= automatic or when i switch over to manual,it showes a m
but in this part light also some indicator lamp up like 5
5 = i had lifted the second axle up,indicator lights up,but there can be light up differnd signs
6 = some setting swittches 000,0 to reset the day counter + and - are for volume settings and others the cornerd arroew is a enter button.
7 = rpm counter
green is the best engine torque and most feul saving aeria
yellow more rpm's but less torque,but the best aeria for braking on the engine
red to much rpm very bad for feul saving
a = time
b= degrees
8 = air storage in bar
working pressure is 10 bar in 2 brake circuit supply pressure,here is circuit lightted up,meaning this is the lowest circuit pressure
what i forget to mention ,the 2 red drawn arrows with the block behind them for turning right or left.
the Arrow is for the truck,the blocks are for the trailer.
if i want to make a turn and the Arrow or the block won't light up,it means a light bulb is broken.
also in the computer screen a sign says which bulb is broken down,but only on the truck.
but any light bulb thats gets broken, the computer will tell me,as long it's from the truck