Re: Mercedes benz '' HIGHWAY CRUISER''
the road was opend a few months back.
give up is a big word at this moment,i wanted to try with the ''norwegian breakaway'' how long it will take for me from leaving spotting place 6,to meet her again at which point 3,2,or 1.
with that knowledge i know roughly when i have to stop in the port and go to 6.
with sunny sunday of the breakaway we drove from 1 straight to 6 in the hope that we made it,while she was on a high speed.
when we arrived at 6 we had so much time left before she arrived that i got planty of time to make my famous infamous
doggie
images.
but now, still don't know which point i can pick her up from leaving 6,but with my driving style,i think i can make it to 2 anyway,so maybe lost 1 place,place 3.
1. don't use it much,but
those
images till 186 coming from this place
2.Roosendaal parking,you get this
vieuw
till 166
3.''lovers'' parkingplace,you get my images like
these
,also a place for the waterlevel images.
4.the giant barrier doors
5. the hill,for the
high vieuw images
6.at sea,for the
bye bye zwaai zwaai
images
the red line was the old road,purple the new road,from the splitting at red and purple to 6 is about 10 kilometer extra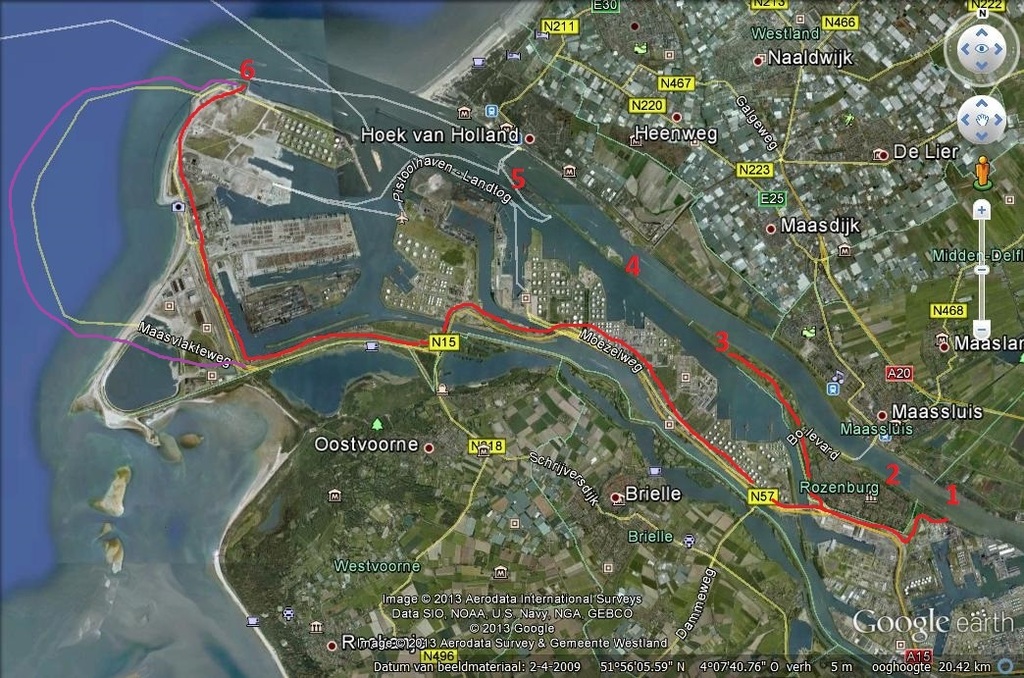 although from the hill i get also some nice images ,from a ''high'' and close point,but they never made it to the sea images.
btw image 2 of post 149 under the sign with holland is in the middle of the river ''the hill'',you can also reconise the barrier doors