Now that all the excitement of pakarang's exam success has calmed down, I came back to remembering that this section is one that is under threat due to lack of use - and I wondered if I could perhaps do something about that! With meteorology and oceanography included in the title and the general educational intent in the description, I would be able to occasionally post interesting images received from weather satellites.
Naturally those including Norway, would be likely to be of particular interest!
Here is an interesting image from 5 April 2009 of the Barents Sea which shows
cloud streets
. As cold air moving from the north over the ice encounters the relatively warmer open sea, clouds have formed from the thermals of rising warm air. With a steady wind, parallel bands of cloud result, aligned with the wind direction.
I have superimposed country boundaries as green lines, making Novaya Zemlya easier to distinguish on the top right of the image, and the ice-bound east side of the Svalbard archipelago on the left. The ice free and cloud free west coast of Spitzbergen is shown in some detail, as is the whole of Norway's northern coast down to Lofoten at the bottom of the image.
The data, which can be received even on amateur equipment, is from an American instrument (AVHRR - Advanced Very High Resolution Radiometer) on board a European satellite. Operated by EUMETSAT, Europe's Meteorological Satellite Organisation, Metop-A is a polar-orbiting satellite providing daily world wide coverage.
The image is derived from two channels of data, one from the near infra-red and the other from a heat sensitive waveband. This particular false colouring has been chosen to provide an attractive image while still retaining scientific data.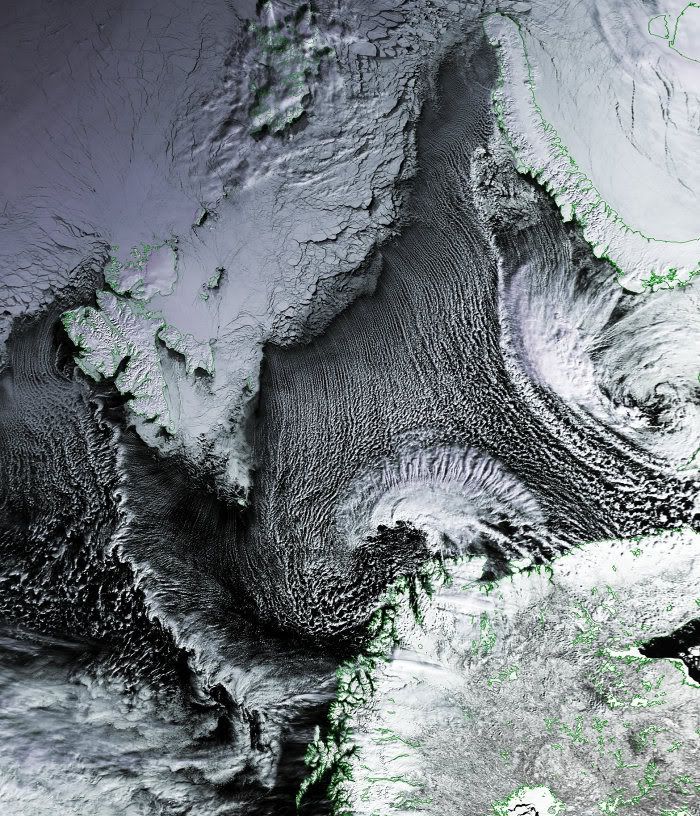 Data copyright © 2009 EUMETSAT & NOAA
Image processing: SatSignal Software (
www.satsignal.eu
)