I must apologize that I could not find a better spot in the forum to post this. So, The Chart Table it is. Yes, I know it's not a chart. It's a tourist map taken from a magazine. You can even see the crease in the middle.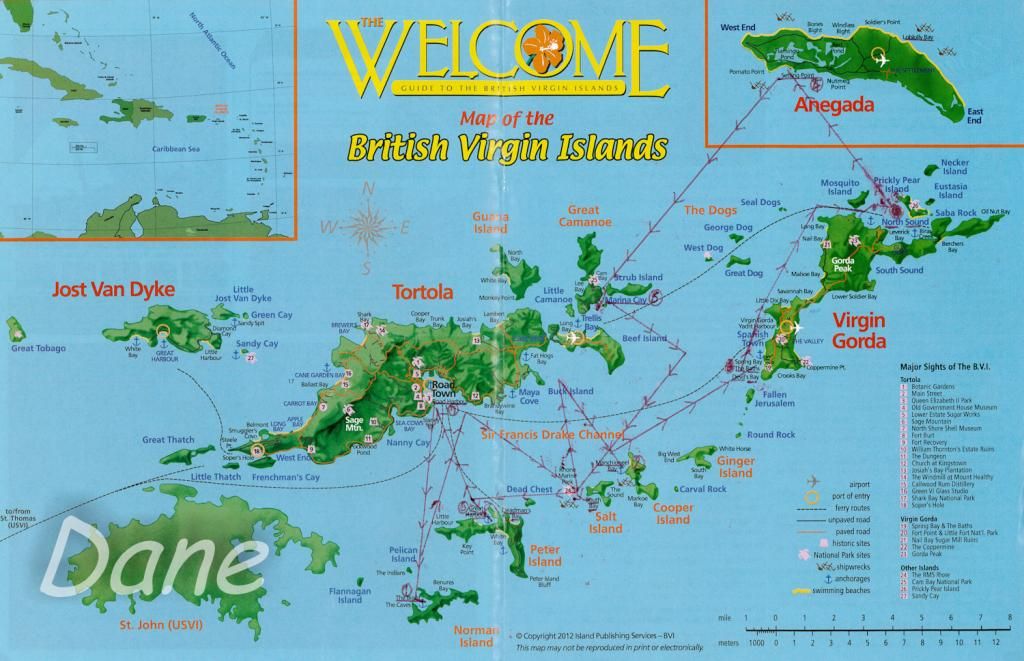 Day 1:
We started in Road Town. Tropical storm Dorian was still deciding if it wanted to fizzle out or become a hurricane so we went south (away from the storm) but stayed close to Tortola in case we needed to head back for a secure hole to ride out the storm. Night one was spent at Norman Island (Treasure Island if you're into pirates and read books).
A beautiful bay with lots of time for diving and later in the day we hiked the island to look for Spanish treasure. We did not find any gold or silver but could never get lost. It was holiday time in Puerto Rico and 50+ boats had made the trip and rafted up just off the beach. "Juan" as we called him was front and center. We think because his cigarette boat had a sound system that could be clearly heard from anywhere on the island. A great beacon to prevent getting lost.
Day 2:
I awoke at dawn and went for a swim before wifey awoke. I swam for several minutes with a spotted eagle ray two feet longer than I and his wings were about as wide as my outstretched arms. Not big for that species but anything bigger than me is very cool! He didn't seem to mind my presence but slow swimming for him was all out for me especially since I was free diving and had to regularly return to the surface.
After breakfast we tacked up to Cooper Island. Some more good diving but the best stuff was around the point in very strong current. Nothing like the fear to make your legs work at 110%. The happy hour "pain killer" cokctails were $2 cheaper than at Norman Island so it's a popular watering hole and the bay was full of charter boats. I pushed it a bit too far and swam too far beyond the point and my endurance was tested against the current. I was at my limit, starting to loos it and bumped my leg into some fire coral and still had to swim half an hour back to the boat. A real wake-up that I am no longer 20 and be more careful where I put myself.
Day 3:
We headed up to The Baths on the south end of Virgin Gorda. It was the off season but still too many people for me so I braved the waves and current and swam around the point and was rewarded by reefs not kicked and beaten by tourists. After lunch we sailed up to North Sound and anchored for the night.
Day 4:
The only time we pointed the bow to.... nothing on the horizon. Anegada would not be visible until a couple hours into our sail so it was fun to sail out beyond the sight of land... until you turned around and saw the mountains of Virgin Gorda behind. So, at no point were we truly out of the sight of land but the 15 mile sail to Anegada was worth it. The reefs on the Atlantic side of the island were incredible and a large barracuda loved hanging out below our boat.
Day 5:
Dorian had passed and winds calmed so it was the only time we had all the sails up on our ketch and we still ended up motoring the last hour to Marina Cay. A nice reef that has a Pusser's Rum bar at the end of it. Hours of free diving while dodging the occasional ferry.
Day 6:
I initially thought we'd head over to Jost Van Dyke which is well known as a party beach but instead went to Salt Island to visit the wreck of the Rhone. The current was raging so surprisingly free diving without the drag of a BC or tank & hoses made a big difference though I've gotta say the story of the wreck is more interesting than the wreck itself.
Then we sailed over to Peter Island and moored in Great Bay where I spent as much time in the water as possible. Great diving all the way around the bay and the beach club was closed for the season so it was nice and quiet.
Day 7:
We sailed back to Road Town, spent some time in town and got off the boat the next morning to catch the first ferry back to St. Thomas.