to get it all together, i all replace it here in a new post.
it started when i placed a new pic of the tug ''loire'' which Ombugge had met in Sumatra
http://www.captainsvoyage-forum.com/...6665#post36665
http://www.captainsvoyage-forum.com/...6727#post36727
http://www.captainsvoyage-forum.com/...7192#post37192
http://www.captainsvoyage-forum.com/...7199#post37199
i'm a member of a Smit group on Facebook ad gave it a try today if there was any crewmember of that tug in that time in the group.
and told Ombugge his story there.
whitin 10 minutes i got an answer.
see also here in post #1426
here is the article that i got.
not an image of the ''slogen'' itself though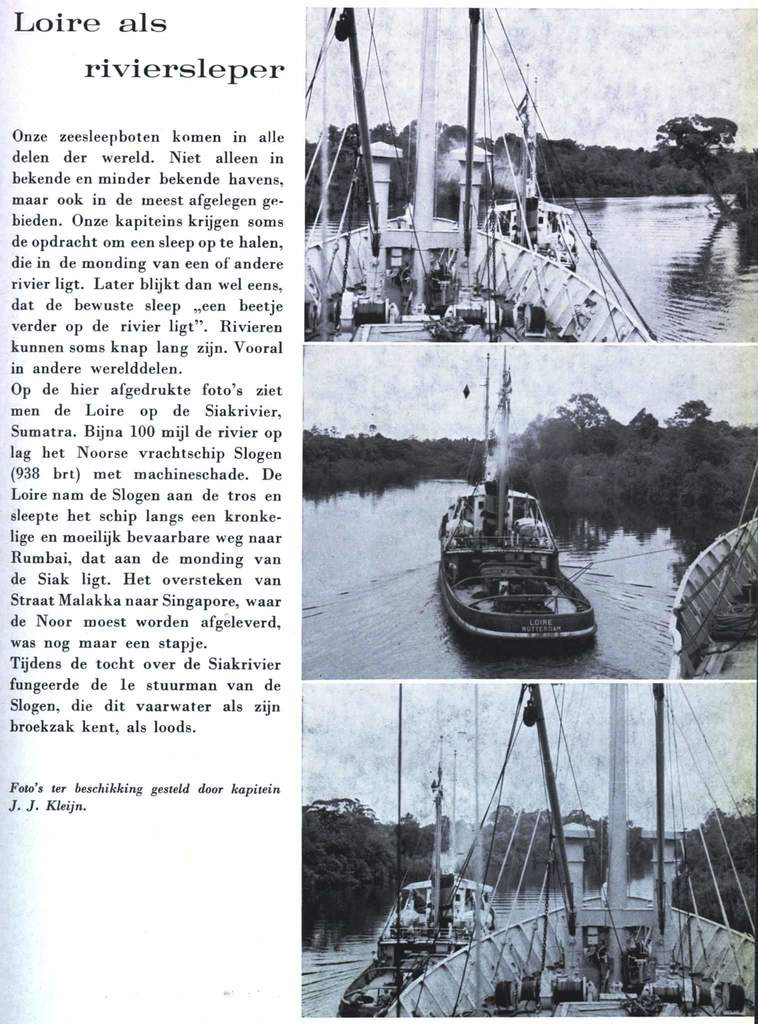 the story of the article
Loire as a river tug
Our ocean gooing tugs are comming in al the parts of the world.
not only in the welknown and less known ports,but also in the most remote aerias.
Our Captains get sometimes an order to pick up a vessel ,which is in a river mouth??? (river delta)
Later it shows that a vessel is ''a bit further up on the river''
Rivers can be sometimes pretty long .specially in other parts of the world.
On the here showed images you can see the ''Loire'' on the Siakriver in Sumatra.
Almost 100mile upstream was the Norwegian freighter ''Slogen'' (938 brt) with engine damage.
The ''Loire'' take the ''Slogen'' on a rope and towed the vessel
along a winding and difficult navigable road to Rumbai, that is at the mouth of the Saik.
the crossing of the strait of Malakka to Singapore,were the Norwegian vessel had to be delivered,
was just a babystep away.
during the journey over the Siak river acted the first mate of the ''Slogen'',
which knows this river as his pocket ,as pilot.
images made available by Captain J.J. Kleijn