Re: Ditjes en Datjes of JANIHUDI
i'm not making a lot of images at the moment,to much fun (not) at work.
so i'm noting into it,just a little reading at forums.
this week one of the wurst weeks.
finally home at 9.45pm thursday,friday away and this morning (saterday) home again,with a lot of arguing on the truckcomputer.
besides that for the most images there is a thread,were i can place them.
but okay i place one
i let made this mirror on behalfe of me and my collegues for the comapny i was working for that time.
he has let build a new building ,that was a office ,a truckwash and storage shed.
i had seen mirrors of truck fronts so i go with this idea to my collegues,if this was something for surprisegift for our boss.
the found it okay.
it was a gift from us for opening of the building,but then he annouced that he would cellebrathing the 50 year jubilee of the company.
so instead that the mirror was a mercedes actros (the first model,i got the third model)we dicidet to change it and also made a model of the companies first truck,an old army GMC truck.
so that is what you see 2 truck fronts a GMC with 1948, the start and with original license plate and the actros with 1998.
besides that a clock with the numbers as on the same way they whare on the trucks as company numbers.
further presented by the emplyies at the opening of the building 2may 1998
and 50 years ,plenty in motion.
the mirror became twice as much in prise,but it was a good boss,and avery one payed the extra costs.
unfortanelly the company don't exist anymore,he sold it after bad partnership who try to ruin him and of his ilness.i heard it while i was laying in hospital,but i was already some years gone there,but still.
a long story just to place a ditje and a datje
so here is the ditje
and here i got a datje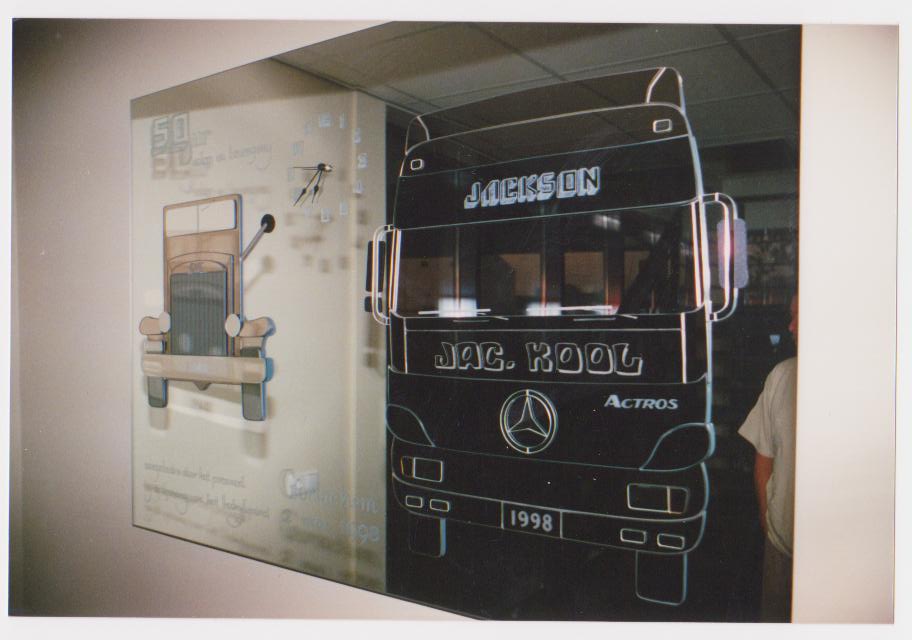 btw ,the reason that i go away was i did't like to drive a merc,i hated merc.
so a little od that 12 years later i choose a merc,but that was i couldend get a daf
you see, i may be your favorit enemy,but your wish is my command