Re: Walking Bjerkestrand (Kristiansund/Frei)
Good morning to you Svein, and already I've many thoughts that have come out of our discussing your photos!
First of all may I say I regret I included that reference to "liking" on Facebook when I was being dismissive of just saying "wow". I hope no one takes it the wrong way. I only meant to imply that although I had noticed your photo album on FB, I had ignored it for the simple reason that I knew you would also post the photographs here on CVF –which is more suited to the kind of sometimes lengthy discussion which I know you want. But of course it is also nice to have an instant appreciation from often busy people, such as our Captain, who, even at the start of work shift weeks, saw and liked your album. Had it been my pictures, such a like from someone whose photography I so admire would have meant a very great deal to me.
But looking back, I don't recollect having said outright that I didn't like an image of yours, and I have been trying to understand why. I've come to the conclusion that I just don't see the ones I don't like –pass them by them without even realising I have.
But another of my thought processes that I understand better is also playing a big part here. I first became aware of this years ago in the context of wine tasting…I mean "serious" wine tasting –kind of thing one might even take an exam in. Trouble with me was that my wine tasting notes were far too subjective and personal, not the kind of descriptions that anyone else could relate to, let alone assist someone in deciding that it was a type of wine they might buy. Neither did I find a more quantitative approach much better – like deciding how dry a wine was on a scale of 1 to 5 kind of thing. But when one had a wine tasting where the wines were presented in pairs or threes, and one was evaluating them together, then I found it easy. Easier to evaluate characteristics like dryness relative to each other, and very much easier to pick likes and dislikes and give reasons by comparison with the other wines.
So although some photos might simply not register on my radar so to speak, the wine-tasting-like thought processes are going on where several similar photos are presented together, like those yellow coloured trees. For example, I don't like #203/4, but I don't think I would be able to explain why without referring to the one I picked as my favourite, #203/5.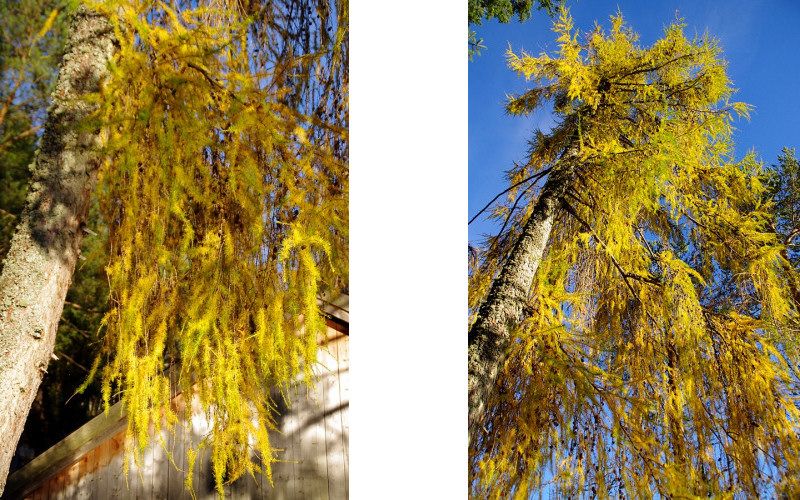 (Just reproduced them smaller side-by-side here for easier reference, the disliked 4 on the left, and the liked 5 on the right.)
So…4 has too little blue sky and too much beige to balance the mass of yellow like the colours in 5 do. 4 seems messy somehow, but I wouldn't have been able to explain exactly how until I'd seen how 5 conveys the cascading nature of the tree, and how well that relates to the composition (one's eye goes up the trunk, pausing at the top for a moment before cascading down to the bottom of the picture. Oh, and that is really making use of the vertical portrait format. So now I'm just realising how much I dislike the use of portrait format in photo 4 –it doesn't "say" anything …and I think the choice of portrait format needs to say something, make a statement of some kind, whereas a horizontal format is more forgiving.
And of course that fault in 4, now that 5 has enabled me to recognise it, seems even worse because you are usually such a master of spotting suitable subjects for composing portrait format effectively! You did exactly that in my favourite 5. Actually I don't think there is a portrait format image in 4, but I like these letter-box-shaped ones I just made!
…and my favourite
:-